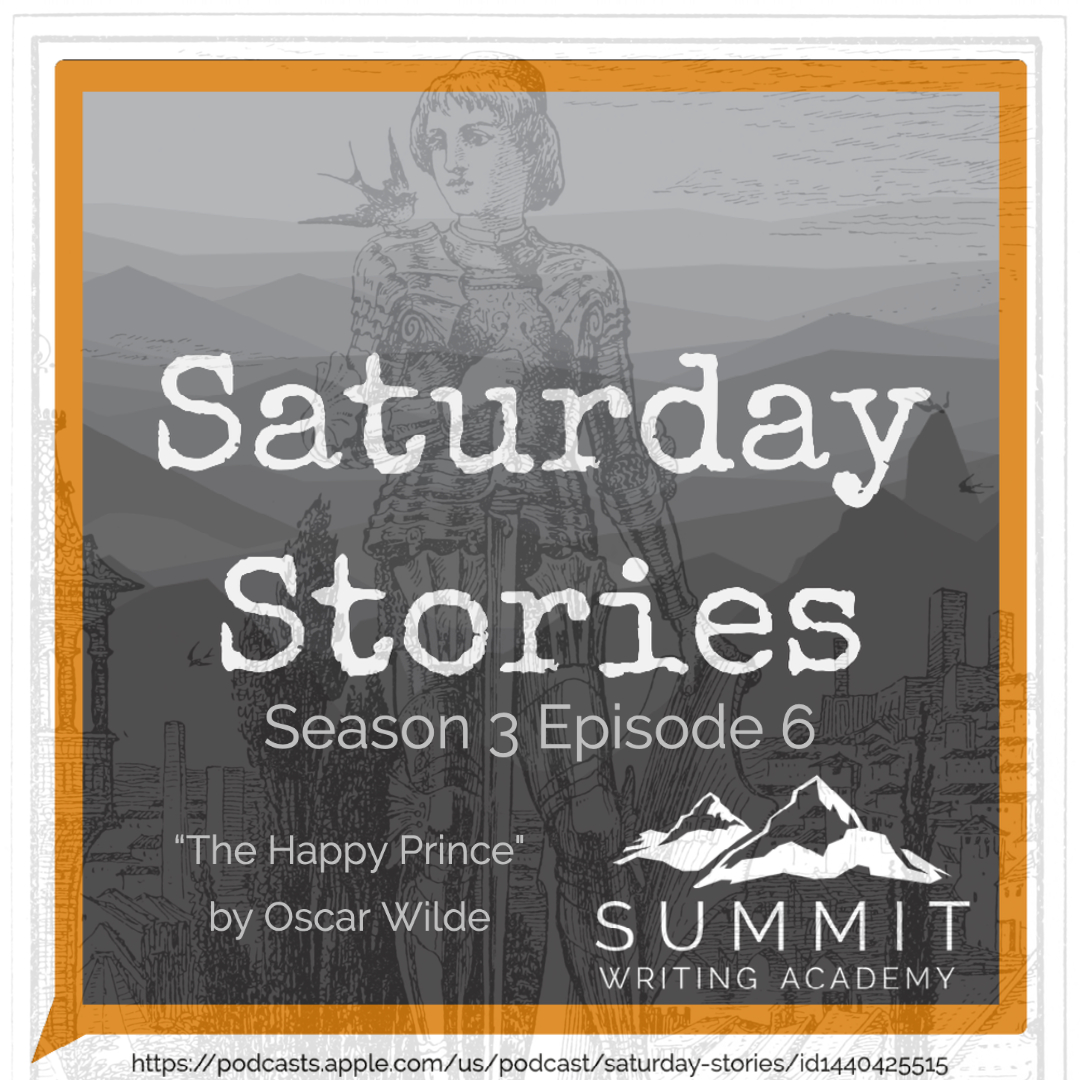 Story Summary
Get your FREE Close Reading Guide.
In Oscar Wilde's fairytale, "The Happy Prince," we find a self-centered Swallow transformed as he experiences the joy of giving and serving. The story is an easy read with underlying themes of love, compassion, and charity.
The Happy Prince recently died, and there is now a statue of him standing high above the city overlooking the streets.
One night, a Swallow, who didn't fly to Egypt, instead had stayed behind to woo a beautiful Reed, arrives in town and finds rest on the statue of the Happy Prince.
He thinks it's raining and then discovers it's the Happy Prince crying for the misery of his people.
When the Prince was alive, he had lived in a palace and hadn't experienced any suffering, but now up on the hill, he overlooks all the suffering of his people, and it brings him sorrow.
He asks the Swallow if he would distribute the gold and gems from his statue. Reluctantly, the Swallow agrees until the Happy Prince is stripped to shabby stone.
By the time the Swallow distributes all the wealth, winter has set in, and it's too late for the Swallow to join his flock in Egypt. Because he had grown fond of the Prince, he stays with him. This choice leads to the Swallow's death and the Prince's lead heart breaks.
The Mayor finds the statue in its decrepit state and decides to take it down, melt it and make a statue of himself instead. But, the lead heart will not melt, and it is tossed to the rubbish heap along with the dead bird.
Soon after, God tells an angel to bring him the two most precious things in the city, and the angel brings him the dead bird and the lead heart.
Get the Most From My Saturday Stories Podcast
I hope you enjoyed Saturday Stories this week. I always try to bring you stories that will entertain and inspire you!
And now, you can use the show as a way to learn story structure and improve your reading comprehension, build your vocabulary, and develop your writing skills.
My FREE Close Reading Guide does all of this. Here's what you'll get:
A full copy of the story.
A listening guide with room for your notes.
Five reading comprehension questions to test your listening skills.
Suggested vocabulary with space to add your own words.
A suggested writing technique to practice with space for notes.
Get your FREE Close Reading Guide.